Posts for: January, 2014
By Joseph & Nina Zeigler, DMD, PC
January 29, 2014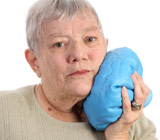 Today's periodontal (gum) surgical procedures are less painful and have fewer complications than ever before. Nevertheless, the best outcome still depends on how well you care for yourself as you recuperate. Here are some things you can do after surgery to lessen its effect.
In the first twenty-four hours after surgery, your primary objective is to prevent swelling, the major source of post-operative discomfort. You can accomplish this by applying an ice or cold pack to the outside of your face in the area of the surgery. It's best to alternate five minutes on and off with the pack for the outside, and ice chips, cold water or ice cream inside your mouth as often as possible. Your aim is to surround the surgical site with cold as much as you can with the five-minute on and off strategy.
You should eat only foods that are cold and soft (Jell-O™, applesauce, yogurt, ice cream, etc.), to help ease any swelling. The next day switch to hotter foods like soup, mashed potatoes or buttered pasta, as well as hot, salt water rinses as often as convenient. Avoid crumbly foods like chips, cookies or popcorn for a few days to help keep the incision site particle-free.
We typically prescribe a number of medications during recuperation: analgesics (usually of the aspirin or ibuprofen family) for swelling and pain, and antibiotics and antibacterial rinses to inhibit bacterial growth. Be sure to follow directions with each prescribed medication, taking the correct dosage and for the specified duration.
There is a possibility of post-operative bleeding — but don't panic. You should first attempt to locate the bleeding area, clean it, and then apply gentle pressure with moist, sterile gauze for ten to fifteen minutes. If the bleeding doesn't stop, give us a call.
You should keep the wound site as clean as possible to help avoid infection. However, don't brush, floss or rinse during the first twenty-four hours to avoid bleeding, and limit hygiene activities to antibacterial mouthrinses like chlorhexidine near the wound site for several days to weeks. During the first few days to a week after surgery avoid activities like strenuous exercise, drinking alcohol, sucking through a straw, or blowing up a balloon, as these can also increase your risk for bleeding. You should also avoid tobacco products during this time as these can inhibit the healing process. Each surgery is different and you should make sure you follow the specific instructions your surgeon will provide for you.
Taking these precautions will help keep discomfort and complications to a minimum. They will also help you recover quickly so that you can get back to your normal life.
If you would like more information on periodontal surgery and what to expect, please contact us or schedule an appointment for a consultation. You can also learn more about this topic by reading the Dear Doctor magazine article "Instructions Following Periodontal Surgery."
By Joseph & Nina Zeigler, DMD, PC
January 14, 2014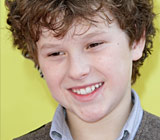 Nolan Gould, who plays Luke on the popular TV comedy Modern Family, has beautiful, straight teeth. But in an exclusive interview with Dear Doctor magazine, the young actor said it wasn't always that way.
"My teeth used to be pretty messed up," Nolan said. "I had two extra teeth when I was born. They hadn't come out (erupted) yet. And all the other teeth that were already there were starting to point backwards because it was getting so crowded in my mouth. At about the age of 7, I started going to the orthodontist to get my teeth checked."
Age 7 may sound early for a visit to the orthodontist, but in fact that's exactly the age we recommend for a first orthodontic evaluation. Malocclusions (bad bites) often become noticeable around this time, as the child's permanent (adult) teeth erupt. We might already be able to see evidence of the following problems: crowding, too much space between teeth, protruding teeth, extra or missing teeth, and sometimes problems with jaw growth. So even if your child is too young for braces, it is not necessarily too early for an orthodontic evaluation.
This type of exam can spot subtle problems with jaw growth and emerging teeth while some baby teeth are still present. Early detection of orthodontic problems makes it easier to correct those problems in the long run. Waiting until all of the permanent teeth are in, or until facial growth is nearly complete, may make correction more difficult or even impossible. That's why the American Association of Orthodontists recommends that all children get a check-up with an orthodontist no later than age 7.
Orthodontic treatment itself usually begins between ages 7 and 14. Therapy that begins while a child is still growing, often referred to as "interceptive orthodontics," helps produce optimal results. In Nolan's case, an early orthodontic evaluation allowed his orthodontist enough time to plan the most effective treatment. Nolan's two extra teeth were removed before they had a chance to push his other teeth even further out of alignment, and he was given orthodontic appliances which fit behind the teeth.
"You can remove them, which is really good for acting, especially because you can't see them. I can wear them 24/7 and nobody will ever notice."
One thing that is noticeable, however, is Nolan's perfectly aligned smile!
If you would like to learn more about improving tooth alignment with orthodontics, please contact us to schedule an appointment for a consultation. To read Dear Doctor's entire interview with Nolan Gould, please see "Nolan Gould." Dear Doctor also has more on an "Early Orthodontic Evaluation."