Posts for: January, 2013
By Joseph & Nina Zeigler, DMD, PC
January 15, 2013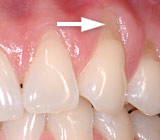 Gum recession is a common problem affecting millions of Americans to some degree. If you have it, you will notice that the pink gum tissue surrounding one or more of your teeth has shrunk or receded and left the tooth-root surfaces exposed. How does this happen? And does it require treatment? The answers to both of these questions will vary from person to person. The good news is that treatment is available for those who need it.
The way you care for your teeth can be a major factor in gum recession. If you do not effectively remove plaque (bacterial biofilm) from your teeth daily, you may develop gum inflammation, gum disease and/or recession. Conversely, if you brush or floss too hard or for too long, you can also damage your gums. Please remember that it doesn't take a lot of pressure to remove biofilm; you just need to make sure you get to each tooth, right down to the gum line.
Other causes of gum recession include: mal-positioned and/or prominent teeth that are not fully encased in supporting bone; muscle attachments (frenums) pulling at the gum line; habits such as holding foreign objects (nails, pins) between the teeth that press on the gum tissues; and badly fitting oral appliances such as dentures, braces – even tongue bolts and lip piercings.
Besides not looking too great, gum recession can lead to anything from minor tooth sensitivity to tooth loss in the most severe cases. If you are experiencing any discomfort from a loss of gum (also called "gingival") tissue, we'd certainly like to know about it. We would be happy to examine your condition and make recommendations.
There are surgical procedures that are very effective in treating these problems. Procedures such as gingival grafting or periodontal plastic surgery ("peri" – around; "odont" – tooth), often involve taking a small piece of healthy gingival tissue from the roof of your mouth and grafting it to the area where it is needed. Ultrafine sutures hold the graft in place until it "takes." Laboratory-processed donor tissue can also be used. In either case, the procedure has a terrific success rate.
If you have any questions about gum recession, please contact us or schedule an appointment for a consultation. To learn more about the topic of oral appliance therapy, please see the Dear Doctor magazine article "Periodontal Plastic Surgery."
By Joseph & Nina Zeigler, DMD, PC
January 05, 2013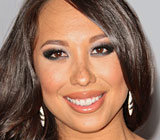 If you've ever watched Dancing with the Stars on television, you've no doubt noticed the vivacious and talented Cheryl Burke, whose ballroom dance moves are as captivating as her bright smile. In fact, Cheryl considers her smile to be one of her most important assets as a professional dancer.
"As a performer, you're basically smiling the whole time," Cheryl told Dear Doctor magazine recently in an exclusive interview. "It's just really important to take care of your teeth and have a great smile."
Cheryl is very conscientious about caring for her smile, but that wasn't always the case. In the Dear Doctor interview, Cheryl revealed that her teeth suffered from ineffective oral hygiene when she was younger. "I definitely had my share of cavities," Cheryl recalled, adding that she believed this was her own fault. "I didn't use floss," She explained. "I think when you do floss frequently, it helps to reduce the chances of getting cavities. It took me a while to figure it out."
Once Cheryl did figure it out, she was able to make cavities a thing of the past. But in order to make sure the effects of her prior tooth decay did not mar her lovely smile, she made sure her dentist — who is also her stepdad! — gave her tooth-colored fillings that could not be distinguished from the surface of a natural tooth. "It's important for me," Cheryl said.
Lots of dental patients feel the same way, even if they don't spend time in front of television cameras. That's why the dental profession has developed tooth-like materials such as composite resins and porcelains that mimic natural tooth material exactly. These materials are also suitable for children's teeth and can incorporate fluoride to reduce tooth decay. It's even possible to replace old silver-colored fillings with these newer dental materials.
If you would like to learn more about tooth-colored fillings, please contact us to schedule an appointment for a consultation. To read Dear Doctor's entire interview with Cheryl Burke, please see "Cheryl Burke." Dear Doctor also has more on "The Natural Beauty of Tooth-Colored Fillings."