Posts for: November, 2012
By Joseph & Nina Zeigler, DMD, PC
November 26, 2012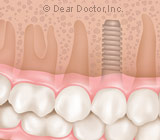 Modern dental implants not only help you maintain your normal chewing ability and speech patterns after you have lost a tooth or teeth — they also keep you looking younger. How do they do this? Read on.
Do lost teeth cause tooth-supporting bone to "melt" away? Yes. Of course, the bone does not actually melt. Bone is a living tissue, and under normal conditions it constantly dissolves and rebuilds. Stimulation by the small stresses from the contact of upper and lower teeth — something that normally happens hundreds of times each day — keeps these two forces in balance. When a tooth is missing, the bone that normally surrounds and supports the tooth (called alveolar bone) no longer receives the stimulation that causes it to rebuild, and it begins to diminish over time.
What happens if you don't replace missing teeth? The first year after a tooth is lost, the width of the bone that once surrounded the tooth decreases by 25 percent. Over the years, gradually increasing bone loss results in sunken cheeks and lips, making you look older. Gum tissue also decreases, affecting your ability to chew and speak.
What happens if you lose all your teeth? For people who have lost all their teeth, called edentulous, the effects are severe. After the alveolar bone is lost, the bone beneath it, called basal bone, also begins to be resorbed, eventually causing the lower part of the face to partially collapse.
Do partial or full dentures prevent bone loss? Unfortunately, just the contrary is true. A removable denture pressing on a person's gum increases bone loss because the pressures from biting are not transferred into the internal structure of the bone but instead are compressive, which damages the bone over time. This is why dentures begin to fit poorly after they have been worn for a while. This problem can be reduced by anchoring dentures with strategically placed dental implants.
What is a dental implant? A dental implant is a tooth-root replacement that is made of titanium. This metal is able to osseointegrate, or fuse with the bone. For a single tooth replacement, a crown that looks and functions like natural tooth is attached to the titanium implant. As mentioned above, implants can also be used to anchor dentures.
Does an implant prevent bone loss? Yes. When dental implants fuse to the jaw bone, they stabilize the bone. They also provide tooth-to-tooth stimulation that was formerly supplied by the natural tooth.
How long do dental implants last? Dental implants have been shown to last at least 10 years. For most people, implants will last the rest of their lives.
Contact us today to schedule an appointment to discuss your questions about tooth loss and dental implants. You can also learn more by reading the Dear Doctor magazine article "The Hidden Consequences of Losing Teeth."
By Joseph & Nina Zeigler, DMD, PC
November 08, 2012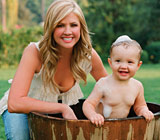 During Nancy O'Dell's interview with Dear Doctor magazine, the former co-anchor of Access Hollywood and new co-anchor of Entertainment Tonight could not resist her journalistic instincts to turn the tables so that she could learn more about a baby's oral health. Here are just some of the facts she learned from the publisher of Dear Doctor about childhood tooth decay, pacifier use and what the right age is for a child's first visit to the dentist.
Many moms-to-be and parents or caregivers of young children are surprised to learn that around age 1 is the ideal time to schedule a child's first visit to the dentist. This visit is crucial because it sets the stage for the child's oral health for the rest of his or her life. It can also be quite beneficial for the parents, too, as they can be reassured that there are no problems with development and that the child's teeth appear to be growing properly. And if by chance we identify any concerns, we will discuss them with you as well as any necessary treatment strategies.
Nancy also wanted to learn more about pacifiers — specifically, if it is a good idea for parents to encourage their use. Obviously, children are born with a natural instinct for sucking, so giving a child a pacifier seems totally harmless. Pacifiers definitely have some advantages; however, if used for too long — past the age of 18 months — they can cause long-term changes in the child's developing mouth (both the teeth and the jaws).
Another problem that parents and caregivers need to be aware of is baby bottle syndrome. This is a condition that develops in children who are perpetually sucking on a baby bottle filled with sugary fluids such as formula, fruit juices, cola or any liquids containing a large amount of sugar, honey or other sweeteners. It is important to note that a mother's own breast milk or cow's milk are good choices for feeding babies, as they both contain lactose, a natural sugar that is less likely to cause decay. However, if these liquids are placed in a bottle and a child is allowed to suck on it throughout the night, they, too, can promote tooth decay. The key is to feed your child properly while avoiding all-night feedings and liquids loaded with sugar.
To read the entire Dear Doctor magazine article on Nancy O'Dell as well as to learn more about a baby's oral health, continue reading "Nancy O'Dell — A life full of smiles." Or you can contact us today to schedule an appointment so that we can conduct a thorough examination, listen to your concerns, answer your questions and discuss any necessary treatment options.