Posts for tag: root canal
By Joseph & Nina Zeigler, DMD, PC
April 09, 2019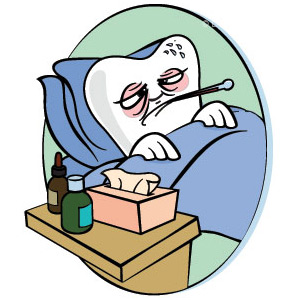 Which would you rather have — the flu or a root canal procedure? Nearly 80 percent of people recently surveyed by the American Association of Endodontists wisely chose the root canal. If this takes you by surprise, then let us bring you up to date on root canal treatment today. It's nothing like the experience that once made it the butt of jokes and a benchmark against which other "undesirable" experiences were measured.
The term "root canal" actually has two meanings. It is part of the pulp-filled chamber at the center of every tooth containing nerves and blood vessels that keeps teeth vital (alive). It's also the endodontic (endo  = inside; dont = tooth) procedure that treats inflammation and infection in this tissue. Common causes of pulp problems are traumatic damage (for example a crack, chip, or root fracture), deep decay, or gum disease.
The first sign of a problem is typically pain — ranging from acute and intense pangs when biting down, to lingering discomfort after consuming hot or cold foods, to a chronic dull ache and pressure, or tenderness and swelling in nearby gums. The primary pain may abate as the nerves in the pulp die, but the infection will continue, compromising the affected tooth, jeopardizing the health of the surrounding tissues, and often triggering secondary pain.
Pain-Relieving, Tooth-Saving Treatment
Endodontic treatment, by contrast, is no more uncomfortable than having a cavity filled. The tooth and surrounding area are numbed with a local anesthetic before the procedure begins. In order to access the diseased pulp, a small opening is made in the biting surface of the tooth. Tiny instruments are used to remove the pulp, clean and disinfect the root canal(s) and pulp chamber, and prepare the empty tooth interior to receive a biocompatible filling material to prevent bacteria from returning. A permanent crown may be placed over the tooth at that time, or a second visit may be needed. A crown (cap) is important to the tooth's long-term strength and functionality.
For a day or two following treatment you may experience temporary sensitivity, which often responds to an over-the-counter medication like ibuprofen. Occasionally, prescription medications, including antibiotics, may be needed.
All in all, doesn't saving a tooth sound easier and more constructive than coming down with the flu?
If you would like more information about root canal treatment please contact us or schedule an appointment for a consultation. You can also learn more about the subject by reading the Dear Doctor magazine article "A Step-By-Step Guide To Root Canal Treatment."
By Joseph & Nina Zeigler, DMD, PC
November 19, 2014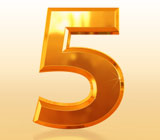 Everyone's heard the jokes about root canals. Now, let's go beyond the myths and get to the "root" of the matter. Here are a few things everyone should know about this relatively painless and beneficial procedure.
1) If you experience discomfort after eating hot or cold foods, sharp pain when biting down, swelling of the gum tissue, or acute tooth pain, you may need root canal treatment.
All of the above are symptoms of disease in the pulp tissue, which lies deep within the roots of teeth, inside tiny canals that go from one end of the root to the other. Pulp tissue can become infected or inflamed for a variety of reasons, such as trauma or deep tooth decay, causing pain and leading to further complications.
2) Diseased pulp tissue in the root canal must be removed to prevent more problems.
The acute pain may go away — but without treatment, the infection in the pulp tissue won't. It will eventually travel through the ends of the tooth's roots and into surrounding areas. This can lead to dental abscesses, and may even cause systemic problems and diseases in other parts of the body.
3) Root canal treatment is effective.
Removing the diseased pulp tissue removes the infection. Pulp tissue itself is a remnant of tooth development which the tooth no longer needs. After the tissue is removed, the root canal is filled with a biocompatible material, and then it is sealed. A crown or other restoration is usually done after root canal treatment to restore the tooth to its full function.
4) Root canal treatment is generally pain-free.
Just like having an ordinary filling, the process begins with an anesthetic administered to numb the tooth and the nearby area. A tiny hole in the tooth's biting surface provides access to the canal, and minute instruments are used for the procedure. Afterwards, over-the-counter pain relievers are typically all that's needed to relieve the sensitivity that may persist for a day or two following the treatment.
5) A properly done root canal preserves your natural teeth.
A tooth that has had appropriate root canal treatment and restoration can last just as long as a natural tooth. That's important, because the other option — removal of the tooth — can lead to issues like unwanted tooth movement and bite problems. Saving your natural teeth should be the first priority in proper dental care.
If you would like more information about root canals, please contact us to schedule an appointment for a consultation. You can also learn more about this topic by reading the Dear Doctor magazine articles "Common Concerns About Root Canal Treatment" and "Signs and Symptoms of a Future Root Canal."
By Joseph & Nina Zeigler, DMD, PC
February 17, 2013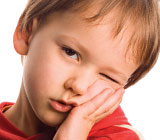 If you think your child is too young to need root canal treatment, think again — there is no age limit for this treatment. If his/her primary (baby) teeth have been injured, or if decay has advanced deep into the roots of your child's teeth, a root canal treatment to stabilize teeth may be needed. Root canal treatment removes infection from the pulp, the living tissue that is found inside the tooth's roots. The pulp contains the tooth's nerves, so tooth pain is often an indication that decay has moved into the pulp.
When performing root canal treatment on primary teeth, we must keep in mind that the primary teeth's roots will be resorbed as part of the normal process in which the body makes room for the growing permanent teeth that will take their place.
If a child experiences tooth pain that is related to changes of temperature or pressure, or exposure to sweet or acidic foods, the infection is likely to be minor and easily repaired. But if he or she feels a constant or throbbing pain regardless of stimulation, it may indicate an extensive infection of the pulp and surrounding area.
If the infection is advanced, the baby tooth may have to be removed. But if baby teeth are lost prematurely, a malocclusion (from "mal" meaning bad and "occlusion" meaning bite) can easily result; so we make every effort to keep the baby teeth in place to guide the permanent teeth that are forming underneath them, inside the child's jaw. In such cases an endodontist (from the root "endo" meaning inside and "dont" meaning tooth) or pediatric dentist may perform root canal treatment, removing the diseased and infected pulp from within the tooth's roots and replacing it with a substance that can be absorbed when it is time for the baby tooth's roots to be resorbed naturally.
When baby teeth are injured through a fall or blow to the face (referred to as traumatic injury) they may develop discoloration varying from yellow to dark gray. This is a sign of damage to the pulp tissues inside the tooth's roots. Dark gray discoloration often indicates that the pulp tissues have died. In such cases root canal treatment is needed to remove the dead tissue. If a tooth is completely knocked out of the child's mouth, most dentists agree that it should not be replanted because of the risk of damage to the developing tooth underneath.
Root canal treatment for baby teeth is a better choice than tooth removal if at all possible. It helps a child retain full function of their teeth, jaws and tongue, preventing speech problems, and it helps guide the permanent teeth into their proper places.
Contact us today to schedule an appointment to discuss your questions about treatment for children's teeth. You can also learn more by reading the Dear Doctor magazine article "Root Canal Treatment for Children's Teeth."