Posts for tag: gum recession
By Joseph & Nina Zeigler, DMD, PC
May 25, 2017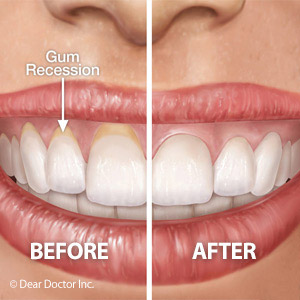 Your gums not only help hold your teeth securely in place, they also help protect them. They're also part of your smile — when healthy and proportionally sized, they provide a beautiful frame for your teeth.
But if they become weakened by periodontal (gum) disease, they can detach and begin to shrink back or recede from the teeth. Not only will your smile be less attractive, but you could eventually lose teeth and some of the underlying bone.
Treating gum recession begins with treating the gum disease that caused it. The primary goal is to remove the source of the disease, a thin film of food particles and bacteria called dental plaque, from all tooth and gum surfaces. This may take several sessions, but eventually the infected gums should begin showing signs of health.
If the recession has been severe, however, we may have to assist their healing by grafting donor tissue to the recession site. Not only does this provide cover for exposed tooth surfaces, it also provides a "scaffold" for new tissue growth to build upon.
There are two basic surgical approaches to gum tissue grafting. One is called free gingival grafting in which we first completely remove a thin layer of surface skin from the mouth palate or a similar site with tissue similar to the gums. We then attach the removed skin to the recession site where it and the donor site will usually heal in a predictable manner.
The other approach is called connective tissue grafting and is often necessary when there's extensive root exposure. The tissue is usually taken from below the surface of the patient's own palate and then attached to the recession site where it's covered by the surrounding adjacent tissue. Called a pedicle or flap, this covering of tissue provides a blood supply that will continue to nourish the graft.
Both of these techniques, but especially the latter, require extensive training and micro-surgical experience. The end result is nothing less than stunning — the tissues further rejuvenate and re-attach to the teeth. The teeth regain their protection and health — and you'll regain your beautiful smile.
If you would like more information on treating gum recession, please contact us or schedule an appointment for a consultation. You can also learn more about this topic by reading the Dear Doctor magazine article "Periodontal Plastic Surgery."
By Joseph & Nina Zeigler, DMD, PC
January 15, 2013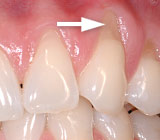 Gum recession is a common problem affecting millions of Americans to some degree. If you have it, you will notice that the pink gum tissue surrounding one or more of your teeth has shrunk or receded and left the tooth-root surfaces exposed. How does this happen? And does it require treatment? The answers to both of these questions will vary from person to person. The good news is that treatment is available for those who need it.
The way you care for your teeth can be a major factor in gum recession. If you do not effectively remove plaque (bacterial biofilm) from your teeth daily, you may develop gum inflammation, gum disease and/or recession. Conversely, if you brush or floss too hard or for too long, you can also damage your gums. Please remember that it doesn't take a lot of pressure to remove biofilm; you just need to make sure you get to each tooth, right down to the gum line.
Other causes of gum recession include: mal-positioned and/or prominent teeth that are not fully encased in supporting bone; muscle attachments (frenums) pulling at the gum line; habits such as holding foreign objects (nails, pins) between the teeth that press on the gum tissues; and badly fitting oral appliances such as dentures, braces – even tongue bolts and lip piercings.
Besides not looking too great, gum recession can lead to anything from minor tooth sensitivity to tooth loss in the most severe cases. If you are experiencing any discomfort from a loss of gum (also called "gingival") tissue, we'd certainly like to know about it. We would be happy to examine your condition and make recommendations.
There are surgical procedures that are very effective in treating these problems. Procedures such as gingival grafting or periodontal plastic surgery ("peri" – around; "odont" – tooth), often involve taking a small piece of healthy gingival tissue from the roof of your mouth and grafting it to the area where it is needed. Ultrafine sutures hold the graft in place until it "takes." Laboratory-processed donor tissue can also be used. In either case, the procedure has a terrific success rate.
If you have any questions about gum recession, please contact us or schedule an appointment for a consultation. To learn more about the topic of oral appliance therapy, please see the Dear Doctor magazine article "Periodontal Plastic Surgery."