Posts for tag: dentures
By Joseph & Nina Zeigler, DMD, PC
October 11, 2016
There's no doubt about it — dentures have changed your life. Now you can eat and speak normally, and smile again with confidence. But if you're going to continue to benefit from your dentures, you'll need to take care of them. One of the best things you can do is not sleep with them in.
There are a couple of important reasons why you should take your dentures out when you go to bed. First, dentures tend to compress the bony ridges of the gums that support them. This contributes to the loss of the underlying bone, an occurrence common with missing teeth. Wearing dentures around the clock can accelerate this bone loss, which eventually loosens your denture fit.
Constant denture wearing also contributes to mouth conditions conducive to dental disease. You're more likely to develop tongue and denture plaque (a thin film of bacteria and food particles) that can cause gum inflammation or yeast development. The presence of the latter could also trigger a chronic response from your immune system that might make you more susceptible to other diseases.
Good oral hygiene is just as important with dentures as with natural teeth. Besides removing them at night, you should also take them out and rinse them after eating and brush them at least once a day with a soft tooth brush. And be sure to use regular dish or hand soap (especially antibacterial) or denture cleanser — toothpaste is too abrasive for denture surfaces.
It's also a good habit to store your dentures in water or, better, an alkaline peroxide solution. This will help deter plaque and yeast development. And don't forget the rest of your mouth: brush your tongue and gums with a very soft toothbrush (different from your denture brush) or clean them off with a damp cloth.
Taking care of your dentures will ensure two things. You'll lower your risk for disease — and you'll also help extend your dentures' life and fit.
If you would like more information on caring for your dentures, please contact us or schedule an appointment for a consultation.
By Joseph & Nina Zeigler, DMD, PC
August 01, 2014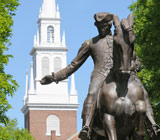 How much do you really know about Revolutionary War hero and famous disturber-of-the-peace Paul Revere? Take this quiz and find out! True or False:
Paul Revere cried "The British are coming!"
Paul Revere rode to Concord, Massachusetts.
Paul Revere practiced dentistry.
The first two answers are false: Revere, like most colonists, considered himself British at the time (but might have said "the regulars" are coming); and he never made it as far as Concord, though one of his midnight-riding companions did. The last statement, however, is true: When things got slow in his regular trade of silversmithing, Revere hung out a shingle to broadcast his skills as a dentist.
"Paul Revere can fix [teeth] as well as any surgeon dentist who ever came from London, he fixes [dentures] in such a manner that they are not only an ornament but of real use in speaking and eating," his advertisement in a Boston newspaper is supposed to have read. Revere specialized in fitting dentures made of metal and walrus ivory in his patient's mouths. (There is no record, however, that he ever worked on George Washington's false teeth.)
The practice of dentistry has come a long way since 1776. But the ideal set of dentures — one that's both aesthetically pleasing and fully functional — remains a valid goal today. But now, instead of going to a metalworker, you'll visit a denture specialist: your dentist.
We understand that dentures need to have a perfect, comfortable fit so they can do their work. That's why we take the time to make an individual mold of your mouth as the first step of the process. Then we choose prosthetic teeth in the shape, size and shade that's right for you. When everything is satisfactory, the dentures will be custom-fabricated in a dental laboratory using high-quality materials that are lifelike and durable. Finally, we will make sure that your new dentures look, feel and function the way they should.
If you have older dentures that no longer fit as they should, come in to our office for a check-up. It's sometimes possible to repair or re-line dentures; in other cases, it's best to have a new set made. Ill-fitting dentures aren't just uncomfortable — they can also lead to oral infections and nutritional difficulties.
For more information about dentures or denture repair, please contact our office to schedule a consultation. You can learn more in the Dear Doctor magazine articles "Loose Dentures" and "Removable Full Dentures."