Posts for: November, 2013
By Joseph & Nina Zeigler, DMD, PC
November 27, 2013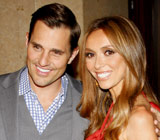 For some kids, having a cavity or two is just part of growing up. Not for Giuliana Rancic. When she was a child, the TV personality didn't have a single cavity — and she still doesn't. But for her husband Bill, co-star of the Style Network reality show Giuliana and Bill, it was a different story. A cavity-prone kid, he was never certain what a visit to the dentist might hold in store. "I can still remember the anticipation," he recently told Dear Doctor magazine. "I always hoped I would get out of the checkups without a cavity!"
Why do some people get more cavities than others? There are a number of factors at work, but to understand it better, let's look at how tooth decay occurs.
How Cavities Form
Cavities — also called dental caries — are small pits or holes in the teeth that are caused by tooth decay. Tooth decay itself is a chronic disease that can flare up when plaque isn't kept under control. A thin, bacteria-laden film, plaque sticks to tooth surfaces both above and below the gum line, and can build up in the absence of effective oral hygiene.
Of course, everyone has bacteria in their mouth, both "good" and "bad" (pathogenic) types. But when the bad guys outnumber the good, trouble can start. When you consume sweets, plaque bacteria process the sugars and release acid as a byproduct. The acid eats into tooth surfaces, causing decay — and cavities that need filling. Left untreated, decay can work its way into the tooth's pulp, resulting in infection and pain. Eventually, treatment might involve a root canal — or, in the worst case, extraction.
What can you do if you seem to be prone to cavities? One effective way to fight tooth decay is by maintaining good oral hygiene. Brush at least twice daily, for at least two minutes each time. Use a soft-bristled brush and a dab of fluoride toothpaste to clean all around your teeth. Most importantly, floss above and below the gum line, every day. And just as important, don't forget to have regular dental checkups every six months.
A Healthy Balance
Another cavity-fighting strategy is eating a balanced diet. Avoid soda, sugary "energy" drinks and sweet treats — but if you choose to consume sugar, have it with meals instead of between meals. This will give your saliva, which has natural cavity-fighting properties, a chance to work.
"It's all about maintaining a healthy balance," Giuliana told Dear Doctor. And Bill agrees: "I love nuts and fruit for a healthy snack," he said, adding that he's meticulous about brushing and flossing. And when the couple smiles, you can see how those healthy habits pay off.
If you would like more information on preventing tooth decay, please contact us or schedule an appointment for a consultation. You can learn more about this topic in the Dear Doctor magazine articles "Tooth Decay" and "Tooth Decay – How To Assess Your Risk."
By Joseph & Nina Zeigler, DMD, PC
November 12, 2013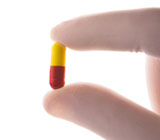 If you have certain health conditions, your medical doctor may prescribe an antibiotic for you to take prior to a dental visit. The reason why is a story that dates back to the mid-20th Century.
In the early part of the last century, a theory became popular that bacteria in the mouth could migrate to other parts of the body and cause systemic illness or disease. During the 1930s and 1940s evidence arose that indicated a connection between dental procedures that caused bleeding and two serious health conditions: bacteremia (the presence of bacteria in the bloodstream) and infective endocartitis. The latter is the inflammation of inner tissues of the heart (including the valves) caused by infectious agents, most notably bacteria. It became common then to prescribe antibiotics to patients susceptible to these conditions as a preventive measure. Later, patients with prosthetic joints or poor immune systems were added for this kind of treatment.
For many years, the American Heart Association (AHA) recommended pre-visit antibiotic treatment for a wide array of heart patients. After several years of research that indicated the treatment wasn't necessary for most people and might even be detrimental, they updated their guidelines in 2007 and reduced their recommendation list to just a few conditions. They now recommend the antibiotic treatment for patients with artificial heart valves, a history of infective endocartitis, heart transplant recipients with valve problems, and certain congenital (inherited) heart conditions.
If you have a condition that calls for a pre-visit antibiotic treatment, all the providers involved with your care will need to communicate. Your medical doctor will most likely prescribe two grams of amoxicillin (or a similar antibiotic if you are allergic to amoxicillin) that you would take an hour before the dental procedure. We in turn would communicate with your medical doctor concerning the dental procedures you're scheduled to undergo (including regular cleanings), in case your doctor would like to make adjustments in your medication.
Your health and well-being is of utmost importance to all your healthcare providers, medical and dental. Working together, we can ensure the dental procedures you need for oral health won't have an adverse impact your general health.
If you would like more information on antibiotic treatment before a dental visit, please contact us or schedule an appointment for a consultation. You can also learn more about this topic by reading the Dear Doctor magazine article "Antibiotics for Dental Visits."