Posts for: April, 2013
By Joseph & Nina Zeigler, DMD, PC
April 20, 2013
If you have to ask why anybody would voluntarily endure the pain of receiving a tongue piercing — then maybe you're just too old to understand. But seriously: no matter where you stand on the aesthetics of the issue, you shouldn't ignore the real health risks that go along with the installation of oral piercings.
According to the Journal of the American Dental Association, the most common sites for intraoral piercing are the tongue and the lip. In the case of the so-called "tongue bolt," several significant short-term and long-term risks have been identified; most also apply to other types of oral piercings as well.
The tongue is primarily composed of muscle tissue, along with a rich supply of associated blood vessels and nerves. This explains why accidentally biting your tongue can be so painful — and bloody. Installing a tongue bolt involves piercing a small hole through the tongue, and attaching the ornament through the hole.
In rare instances — such as the case of a teenager who experienced severe pain and the sensation of electrical shocks — nerve irritation and damage may occur soon after a tongue bolt is installed. (Fortunately, her symptoms cleared up shortly after the bolt was removed.) More often, the symptoms are less severe, but the health issues are chronic.
Tongue bolts are known to cause problems with the teeth, including increased sensitivity and pain. Teeth are also prone to chipping due to contact with the ornament. These are among the reasons why you are likely to need more frequent dental checkups if you have an oral piercing.
Additionally, periodontal (gum) problems can develop in individuals with oral piercings. These frequently appear as gum recession, inflammation and infection. Eventually, bone loss may occur as well.
The good news: removing an oral piercing is generally easy, and the area is quick to heal. If it doesn't seal up by itself, the hole left behind can be closed with only minor surgery. And removing the piercing immediately reduces your health risk — thus instantly improving your overall oral health.
Thinking of getting — or removing — an oral piercing? Talk to us. No matter what you decide to do, you owe it to your health to become informed about the issues surrounding these body ornaments.
If you would like more information about oral piercings, please contact us or schedule an appointment for a consultation. You can also learn more about this topic by reading the Dear Doctor magazine articles "How Oral Piercings Affect Your Oral Health," and "Body Piercings and Teeth."
By Joseph & Nina Zeigler, DMD, PC
April 04, 2013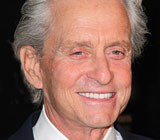 Actor Michael Douglas shocked TV audiences across the country when he announced on the David Letterman Show in 2010 that he has stage IV oral cancer. Fortunately, the cancer had not spread and his radiation and chemotherapy treatments were successful. This year, Douglas teamed up with the Oral Cancer Foundation to warn others about the dangers of the disease and the importance of early detection. In particular, he wants younger people to know that even if they don't smoke and drink a lot, as he admitted to Letterman that he did, they are still at risk.
As Douglas states in a PSA he made with the foundation, "the fastest growing segment of the people developing oral cancers are young, non smokers." That's due to a strain of the Human Papilloma Virus known as HPV16 that can be transmitted through oral sex. So it's important to avoid risky sexual behaviors and to be screened regularly for this devastating disease that claims one life every hour in the U.S., according to the Oral Cancer Foundation.
An oral cancer screening is a simple visual and tactile exam done right here at the dental office. We will feel your neck for lumps and inspect your lips and all inside surfaces of the mouth, including the back of your throat, for any suspicious signs. If any are found, a biopsy (laboratory analysis of a tissue sample) can be ordered.
Most oral cancers are "squamous" (small scale-shaped) cell carcinomas that occur in the lining of the mouth and are often preceded by recognizable changes (lesions) of the oral membranes. White or red patches begin to form in the pre-cancerous stage, and as the cancer develops, a non-healing ulcer may appear. If you notice any such changes in your mouth, please let us know.
Michael Douglas ends his PSA with the following plea: "So please, the next time you visit your dentist or your medical doctor, ask for this simple screening. Finding oral cancer in its earliest stages may save your life." We agree, which is why we always perform this screening during your regular dental check-up. If it's been a while since your last appointment, please come in and see us.
If you would like more information about oral cancer, please contact us or schedule an appointment for a consultation. You can learn more about the disease in the Dear Doctor magazine article "Oral Cancer."