Posts for: September, 2012
By Joseph & Nina Zeigler, DMD, PC
September 27, 2012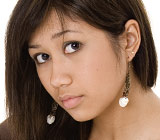 Worldwide it is generally accepted that the best method for permanently replacing a missing tooth is with a dental implant. However, one fact that can affect the timing of placement of dental implants is that the person should be fully mature. In this case, it means that growth is complete, in particular the jawbones have completed growing. And while we are sensitive to teens who may beg for a dental implant to replace a missing, damaged or traumatized tooth, parents or caregivers should know that research and experience have shown that it is better to wait.
The main reason it is best to wait is because natural teeth grow and move with the jaws as they mature whereas implants don't. Natural teeth change positions and move with the jaws as the jaws grow, implants don't. They are fused to the bone in one position and as the jawbone grows, they get left behind and appear to sink as the adjacent teeth and jawbone grow in harmony.
Although it is not really possible to determine exactly when a person has finished growing, it is generally best to wait until the jaw is fully matured and developed. However, we are the most qualified, along with our orthodontic colleagues to "guesstimate" based on family history, age and genetics. Specialized radiographs (x-rays) of the skull and jaws may also be helpful in determining the timing of jaw growth completion and when implants can be placed.
Dental implants are a permanent solution to a dental problem and thus should not be used until all growth is complete. Think about it. Your young child gets a beautifully restored smile through a dental implant...and for a year or two it looks fantastic. However, as your child's jaws continue to grow, everyone begins to notice gaps between the implant and adjacent teeth. So it makes sense to avoid this eventuality; by just waiting until late teens when beautifully restored crowns on properly positioned dental implants should last for many many years.
To learn more on this subject, read the Dear Doctor article, "Teenagers & Dental Implants." You are also welcome to contact us to discuss your questions or to schedule an appointment.
By Joseph & Nina Zeigler, DMD, PC
September 10, 2012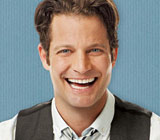 Design expert and television celebrity Nate Berkus has definite ideas about how to live. In a recent interview, he explained his ideas on design. He also talked about health, and how he keeps his teeth and mouth healthy.
From an initial design makeover that he did eight years ago on the Oprah Winfrey Show, Berkus has gone on to do 127 such makeovers. He was such a success that he now hosts his own daily talk show. He has also developed a line of home products for the Home Shopping Network and has his own design firm, Nate Berkus Associates. His clients include well-known restaurants and hotels as well as private homes. He has written articles for O Magazine and authored a book on the subject of transforming your home into a place you love.
"I realized many years ago that I wasn't going on Oprah to pick sofa colors and paint chips. I was there to lift people up through the way they live," he says. His secret to design success is to "go with what you love." He says, "Don't worry about mixing metals, eras or styles. If you love each item, you'll find a way to make it work."
His common sense practical attitude continues when it comes to dental health. Berkus is blessed with a healthy mouth and teeth. He doesn't feel anxious when visiting the dentist because he usually has a good report. He has not needed orthodontics or cosmetic dentistry. He thanks his childhood dentist for giving him fluoride treatments and sealants, and for teaching him healthy dental hygiene habits.
Berkus brushes his teeth twice or even three times a day, with a manual or electric toothbrush — depending on whether he is at home or traveling. He also follows his dentist's advice about flossing: "Floss the ones you want to keep!" He says that he tried tooth whitening once, but he felt that the whiteness was "too white." Now he simply works to maintain his natural tooth color and smile.
Contact us today to schedule an appointment to discuss your questions about maintaining healthy teeth. You can also learn more by reading the Dear Doctor magazine article "Nate Berkus, Helping Others Love the Way They Live."